Description
Description
Product Specifications:

Approx Dimensions as shown in photos:
5″ Tall
3.5″ Diameter Bloom
Materials:
Artificial silk.
More Info
Additional information
| | |
| --- | --- |
| Quantity of Flowers | Set of 25 Flowers, Set of 50 Flowers, Set of 100 Flowers, Set of 150 Flowers |
| Carnation Colors | Lavender Carnations, Mixed Carnations, Pink Carnations, Red Carnations, White Carnations |
Reviews
Related Products
Quick View
36" Silk Flower Lei Party Pack - 36 ct Assorted Colors
36 piece, high-quality simulated-silk leis will personalize your event and bring it to life!
While other flower leis are made of cheap plastic material with dull, boring colors, the Step and Repeat LA Silk Flower Leis are made of a soft, simulated-silk material and come in beautiful, vibrant colors; these leis will bring your next event to life
No more flower leis that are uncomfortable to wear; the Step and Repeat LA Flower Leis are the perfect party favor for birthdays, weddings, luaus, graduations, etc
Our leis will remove the stress from planning your next event so you can focus on the things that really matter
Your purchase includes a Free coupon for 20% off a custom photo backdrop by Step and Repeat LA; You can send us your own design or the Step and Repeat LA designers will create a design for you so your guests can pose with their leis in front of a beautiful backdrop
We believe in great quality and excellent customer service so that your next event will be a smashing success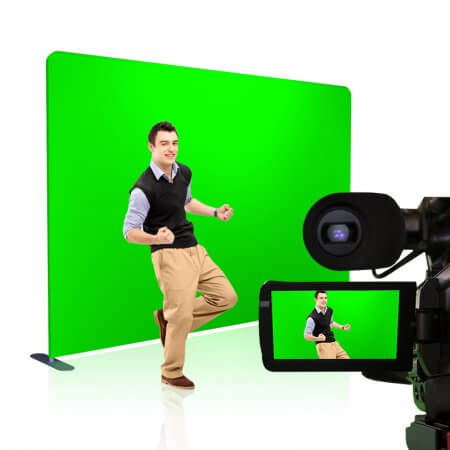 Quick View
8' x 10' Green Screen Video Backdrop Color: Chromakey Pantone green that is used in the industry 8' x 10 ' Seamless Non-glare Our special fabric stretch material is fabricated with a zipper at the bottom so it can be stretched tightly removing any wrinkles so there are no issues with filming. Ideal for portraits, studio, video, and photography Fast and easy setup. Comes with a carrying case that fits stand and green screen material all in one! This is a great display option due to its ease of transport, ease of set up and economic price. The frame and fabric together are extremely lightweight and easy to ship if needed. Your display will set up in just minutes and look fantastic. The graphic is perfectly stretched across the tube frame to create a virtually wrinkle-free surface. Only $195 to rent this Fabric Green Screen Video Backdrop for up to 3 days. Pick up and drop-off at our location required or Step and Repeat LA can deliver and set up for you in Los Angeles County. This full green screen package includes: • (1) Aluminum frame with travel case with wheels • (1) Green screen print (single-sided or double-sided)
Quick View
Rent an  8' x 4' hedge flat or two to make a beautiful
8' x 8' wall
One-sided (Place against a wall as back shows frame)
Perfect for long walls with a seamless look
Great for alternating with media walls
Can be custom built to any size or shape
Easier to get into tight spaces or venues on the top floor
Quick View
Artificial flowers have been popular for many years and their quality has improved immensely. Foam flowers are now the new craze! Manufactured from fine grade foam, they are lifelike in appearance and will not crease, crush or fray. All of our foam flowers are handmade and we have an array of wonderful colors for all occasions. These beautiful foam flowers will make your hedge wall come to life and brighten up your event! Want a variety of colors? Select the colors and quantity you want and we can do the rest! Have your own arrangement ideas! Great! Send us the artwork and we can make it happen.
Quick View
SILK CARNATION FLOWERS FOR HEDGE WALLS
These artificial silk flowers will personalize your hedge wall with a unique design!
These soft artificial carnations are a great way to brighten up your event.
The stems are very durable and are perfect for inserting into your hedge wall.
25 flower minimum purchase order.
We can mix and match the colors. Select the color flowers and quantity of each you want below. For mixed flowers, select mixed and type in color choices in the notes section. Prices do not include flower installation. Installation prices of flowers on hedge walls delivered and installed (by Step and Repeat LA) at venue location are below. For flower installation of over 50, please call for a quote. (818) 434-7591