Description
Description
Black on both sides
Polyester
Imported
✅ Ready Made: Package includes a pair of panels of W52″x L96″(132cm x 243cm) each | W104″x L96″(264cm x 243cm) in total.
✅ Light Dimming: Show off Selection creates a theater-like space by impeding 98% of light that comes from outside.
✅ Sound Dampening: Plush velvety fabric proves to be good sound absorbers that helps you decrease the outside noise and can get the reflected sound absorbed.
✅ Energy Smart: Premium quality microfiber heavy coating keeps the room at a set temperature by insulating against either heat or cold.
✅ Easy to Maintain: Quick steam clean helps to calm the fold line, refresh the fabric and keep them looking neat.
Reviews
Related Products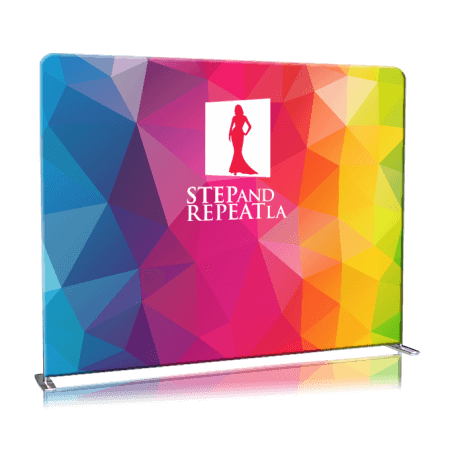 Quick View
This deal doesn't happen often!
We have several fabric stretch display stands that have only been used once! They are in great working condition with some minor scuffs on the poles and some wear and tear on the canvas carry bag. You can buy the frame only or get the whole package.
Sold as-is, no warranty on the frame and all sales are final.
This display is a great alternative to vinyl banners. The soft fabric graphic stretches over the frame to create a seamless and eye-catching display.
Choose OVERNIGHT SHIPPING at checkout if you need this right away.
RUSH TURNAROUND OPTIONS * *Business days are Monday-Friday and do not include weekend days *Production time does not include shipping time *All times are Pacific Standard Time *For FASTER turnaround, please call (818) 434-7591
Quick View
Take advantage of our carpet clearance! New or like new condition. (Used on one job and then cleaned) Sometimes we have to buy more carpet than is needed to fill a special request carpet order and now you can reap the benefits of our over-stocked carpet clearance sale! Sold as is. Please call if you have any questions. Thanks! (818) 434-7591
Quick View
Halogen Reflector Lamp - PAR20
Green Energy Lighting Company halogen Par 20 spotlight
39 Watt High-Efficiency PAR20 replaces the 50 Watt Standard PAR20
Green Energy Lighting introduces the new high-efficiency Halogen PAR lamps. These new PAR20 Halogen light bulbs meet the latest DOE energy requirements.
Higher light output
Excellent color rendering
Whiter light
Superior beam control
Indoor/outdoor
Quick View
Take advantage of our carpet clearance! New or like new condition. (Used on one job and then cleaned) Sometimes we have to buy more carpet than is needed to fill a special request carpet order and now you can reap the benefits of our over-stocked carpet clearance sale! Sold as is. Please call if you have any questions. Thanks! (818) 434-7591
Quick View
Nu-Tek E-Wall Wash Accent Light 12 SMT LEDs, Battery, R/C Ready Brand new Highlight your party and event designs with this battery operated 12 LED wall washer by Acolyte. The Nu-tek E-WallWasher comes with a detachable and adjustable base allowing for a range of light dispersion angles. The unit will run for 8 hours on a set of batteries (included and replaceable). With an optional A/C adaptor (sold separately) you can plug in this unit for longer display times. You can also turn the unit on and off with an optional remote control unit designed specifically for Acolyte Point n Party products such as this one. You can pick up anytime between 9 am and 5 pm at our location or order online