About Us
Step and Repeat LA is the leading red carpet company in the Los Angeles area.
We are a tight crew, dedicated to creating the highest quality backdrops and media walls for VIP events. We have been in the sign business for over 40 years, and now specialize in red carpet displays.
Some of our reputable clients include Google, Disney, Nike, Hennessy, Sephora, Target and more.
We work with the top event companies and event planners such as BluePrint Studios, Sequoia Productions, Th Productions, The Say Okay, EFX LA and much more.
We have the exact technology, equipment, experience and knowledge to make a perfect red carpet display that dazzles guests and VIPs.
We do our printing and fabrication in-house based in the Los Angeles area. We have warehouses in Vegas and Chicago that house some of our specialty displays. No printing job is too big for us as we have one of the largest printers in the world.
We strive for excellent customer service, high-quality backdrops and products, and efficient installation services. We are passionate about our work, always perfecting our operations to create the best experience for our customers.
In the event production field, we understand how rush-rush-rush everything can be. Because of this, we are here to make sure your project goes right no matter what and offer 24-hour turnaround.
The Story
Our parent company is a full-service sign company that has been around for 30 years. It specializes in signage & hero props for the film industry. Step and repeat banners started becoming very popular and soon a spin-off company was created, Step and Repeat LA, which has its own admin and production team focusing on this very specific niche of the business. Because we created a business entirely oriented around step and repeats, we became professionals and problem-solvers in this field.
How it Began
At 14 years old, a young boy from Kansas named George Collins started painting signs to support his family. He created his own sign shop called George's Signs.
At 21 years old, he moved to Los Angeles, continuing to paint and fabricate signs for buildings, storefronts and events. As technology advanced and printers came on to the scene, sign painting became less and less needed. George, keeping up with the times, bought his first print-cut machine, creating stickers and decals. As time went on, he purchased more and more printers and equipment.
George is the kind of person that would make anything go right, no matter what. He's a problem-solver. And he's fast. Super fast.
This was much needed as the film industry started evolving and more and more commercials were being made. George started making signs and props for the entertainment industry on a regular basis. He would go on set and had the opportunity to create props around celebrities such as Justin Timberlake, Britany Spears, Jay-Z and more.
Step and Repeats Boomed
When red carpet events started really taking off, step and repeats were in demand as they created a nice backdrop for the celebrities as well as showcasing the logos of sponsors who supported the event.
His daughter, Codi-Rose, who started working for him at this time, saw the huge demand for this new product and created a website specifically selling these products. It was a success. More and more clients were ordering step and repeats. Codi-Rose decided to create a spin-off company, Step and Repeat LA, in order to fully embrace this niche and deliver anything and everything having to do with red carpet events. While George still handles the production side of things, Codi-Rose continually works the administrative side to expand the business and further the excellence of the products and services. She loves working in the event industry, making things happen and providing the glitz & glam to Hollywood events and red carpet events around the nation.
George continues to keep on top of the ever-changing technology, recently having purchased a fabric printer and the largest printer in the world, in order to create seamless large step and repeats.
It's interesting to see the dichotomy of a 14-year-old sign painter from Kansas and the evolution that ensued, resulting in the top step and repeat company for prestigious red carpet events. This company is backed by experience, hard-work, change, innovation and a new generation with a brand-new dream and purpose.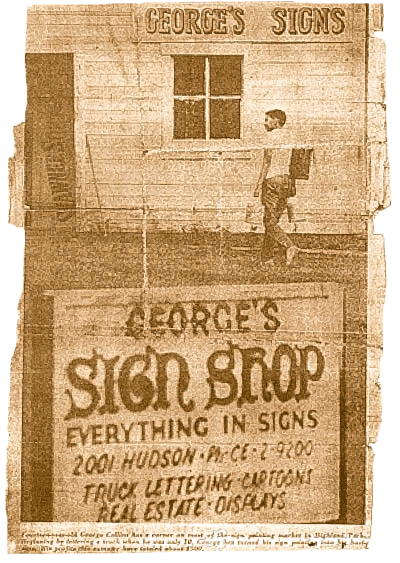 Here's George at age 14 at his first sign shop.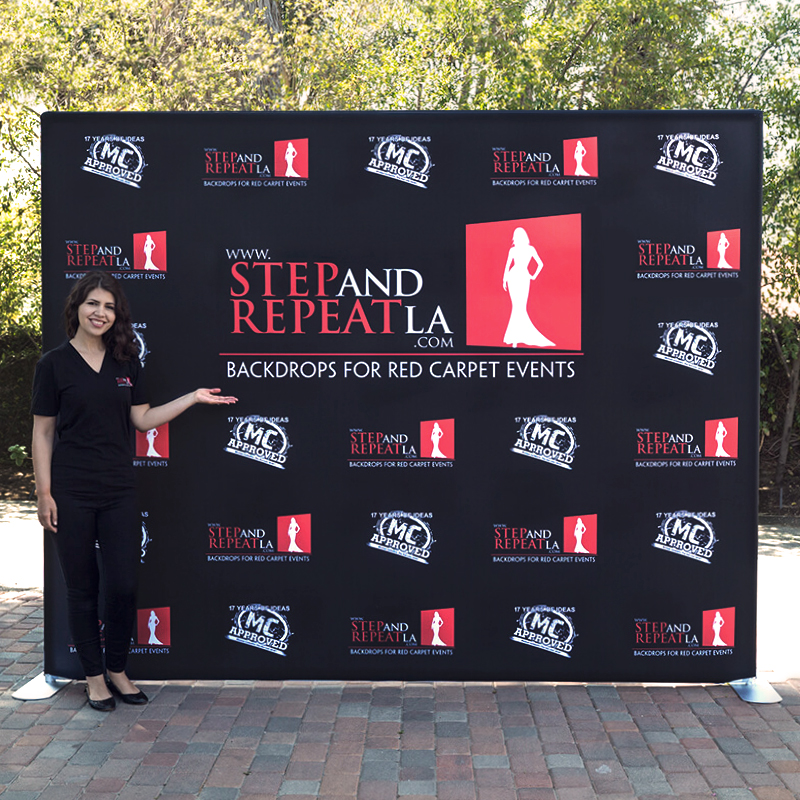 Codi-Rose in front of our most popular product, the Fabric Stretch Display